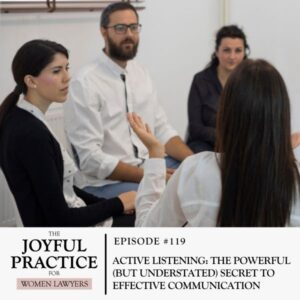 In a world where we are faced with a variety of things vying for our attention every day, listening to and giving 100% of our concentration to someone is a skill many of us aren't practiced in. We aren't trained to strategically and actively listen, and this is normal. However, I want to impart a few lessons I've learned as a professionally trained coach about listening better.
Listening is one of the most underrated communication tools available to us, and I believe it can be far more powerful than speaking when it comes to creating connections. There is a gap between the level at which we are currently listening and the level of listening I know we are all capable of. This week, I'm walking you through the steps to becoming a great listener.
Join me on this episode to discover why developing the skill of active listening matters, and the myriad of benefits that come along with becoming a better listener. I'm sharing some of the challenges that prevent us from being great listeners, and six easy strategies you can practice in your day-to-day life to improve your listening skills right now.
I have created a group coaching program dedicated to supporting women lawyers, just like you, in your practice and your personal life. I'm going to help you create an even greater impact in your own life, and the lives of those around you. For more information, click here!
What You'll Learn from this Episode:
The components of active listening.
What can make us feel like we're not being truly seen or heard.
Why building the skill of listening better matters.
What it means to hold space for someone you're listening to.
How your relationships will transform when you become a better listener.
Non-verbal cues to look out for in your conversations.
6 strategies that will help you listen actively.
What is required of you to become a great active listener.
Listen to the Full Episode:
Featured on the Show:
Want to get in touch with me? You can do so by clicking here or reaching out to me on LinkedIn
If you are interested in learning more about the work I do with lawyers, click here and send me a note, I would love to hear from you.
Enjoy the Show?