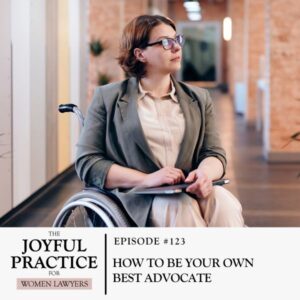 The topic of self-advocacy is one that's especially important for women lawyers to consider. It's a challenge that comes up often for my clients who are incredible advocates for everyone else in their lives but struggle to advocate for themselves. 
Whether it's setting boundaries, charging your full rate, or anything else, the truth is you are a professionally trained advocate. You advocate for your clients, your children if you have them, and you may even be advocating for people you don't know well. Now, it's time to use those skills to begin harnessing your innermost powerful advocate.
Whether you've never practiced self-advocacy, want to refine this skill, or are only thinking about it for the first time today, this episode has got you covered. I'm showing you how you may be talking yourself out of self-advocacy, the cost of doing so, and an exercise that will help you get to know yourself better so you can begin stepping into self-advocacy.
I have created a group coaching program dedicated to supporting women lawyers, just like you, in your practice and your personal life. I'm going to help you create an even greater impact in your own life, and the lives of those around you. For more information, click here!
What You'll Learn from this Episode:
Why you might be struggling to advocate for yourself.
The consequences of not advocating for yourself.
How practicing self-advocacy is about uncovering your relationship with yourself.
5 questions to ask yourself that will help you develop self-advocacy.
What happens when you begin practicing self-advocacy.
Listen to the Full Episode:
Featured on the Show:
Want to get in touch with me? You can do so by clicking here or reaching out to me on LinkedIn
If you are interested in learning more about the work I do with lawyers, click here and send me a note, I would love to hear from you.
Enjoy the Show?