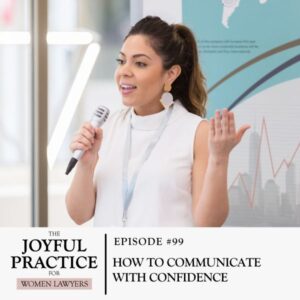 This week, we're talking all about confident communication. It's a topic that comes up frequently in my coaching conversations with clients because it has a huge impact on your entire professional life. Confident communication isn't just reserved for trips to the courtroom or boardroom, but it's truly at play in every conversation you have at work.
Confidence looks and feels different relative to individuals. Whether you want to present with greater confidence in interview situations, when you're negotiating the terms of your position, or as you navigate increased leadership, today, I'm inviting you to reflect on what confident communication might look like in these instances.  
Tune in this week to discover how to start cultivating confident communication no matter the scenario you're in. You'll hear the three essential components of confidence, verbal and non-verbal ways of increasing confident communication, and five of my favorite strategies for developing and conveying confidence with ease. 
I have created a group coaching program dedicated to supporting women lawyers, just like you, in your practice and your personal life. I'm going to help you create an even greater impact in your own life, and the lives of those around you. For more information, send me an email!
What You'll Learn from this Episode:
What confident communication can mean.

 

Situations where confident communication is required.

 

The 3 components of confidence.

 

Questions you can ask yourself to reflect on your confidence level in communication.

 

5 strategies for cultivating confident communication.

 

How you might unconsciously be diminishing your authority.

 

The power of minimizing your explanations and justifications.

 
Listen to the Full Episode:
Featured on the Show:
Want to get in touch with me? You can do so by clicking here or reaching out to me on LinkedIn
If you are interested in learning more about the work I do with lawyers, click here and send me a note, I would love to hear from you.
Enjoy the Show?