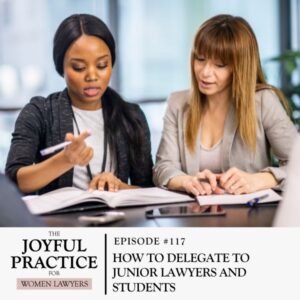 Delegation is a topic that I frequently address with my coaching clients. It's a subject to which I've been invited to teach at law firms, and I've also spoken about this topic from the perspective of a junior lawyer or student who receives instructions from more senior lawyers.
If this episode has caught your eye, my guess is that you are either an assigning lawyer looking for ideas on how to delegate more effectively, or you're a junior lawyer or student seeking strategies for implementing directions with ease. Regardless of which camp you fall into, you're in the right place because I'm approaching this topic from both sides.
Join me this week to hear my tried-and-tested formula for delegating effectively. I'm sharing a seven-step outline for successful delegation as it pertains to assigning lawyers, my top tips for receiving instructions better if you are a junior lawyer or student, and the opportunities for growth that are available to both groups in practicing delegation.
I have created a group coaching program dedicated to supporting women lawyers, just like you, in your practice and your personal life. I'm going to help you create an even greater impact in your own life, and the lives of those around you. For more information, click here!
What You'll Learn from this Episode:
2 important considerations to make when you enter a delegating relationship.
My 7-step formula for delegating successfully.
How to be clear about what you're asking for.
The downsides of making assumptions.
Why it's worth assessing how you manage your calendar as the delegating lawyer.
My top recommendations for avoiding miscommunications.

 

The opportunities for growth in delegation, both for senior and junior lawyers.
Listen to the Full Episode:
Featured on the Show:
Want to get in touch with me? You can do so by clicking here or reaching out to me on LinkedIn
If you are interested in learning more about the work I do with lawyers, click here and send me a note, I would love to hear from you.
Enjoy the Show?