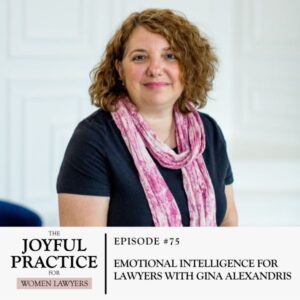 When you're working with the law, the most difficult part isn't remembering certain laws or procedures, even though it might seem like that would be. Really, the most challenging part is remembering that your client(s), the opposing counsel and their client(s), and even the judge and jury (if you go to trial) are exactly like you—they're people. There is a humanness to law that we don't always remember to consider, even when we should.
To take a closer look at this topic, I sat down to chat with Gina Alexandris, a Career and Professional Development Coach with nearly 30 years of experience teaching and coaching legal professionals. Gina's past "formal" roles include: Senior Director, Law Practice Program at TMU (formerly Ryerson University), and Special Advisor to the Lincoln Alexander School of Law. Gina specializes in individual and group training, and helped build mandatory cultural and emotional intelligence training into the Law Practice Program at TMU.
Listen in this week to learn about how emotional intelligence and embracing the humanness of law can make you a better lawyer. Gina and I talk about what inspired her to become a lawyer, and then a teacher of lawyers, how emotional intelligence impacts law, and why it takes time to get things right.
If you enjoyed today's show and don't want to miss an episode, be sure to subscribe and follow the show. And if you haven't already, please leave a rating and review! Your feedback will help me create a podcast that's tailored to your needs and goes straight to the heart of what matters to you. Click here to learn how to subscribe, rate, and review.
What You'll Learn from this Episode:
How Gina became an advocate for emotional intelligence in the law.

Why you should be able to have fun at your job, even if you're a lawyer.

Gina's definition of emotional intelligence.

How to deal with the humanness of law.

Why sometimes it takes time to find the right thing.

Some practical examples of emotional intelligence.

How to improve your emotional intelligence.

Listen to the Full Episode:
Featured on the Show:
Want to get in touch with me? You can do so by clicking here or reaching out to me on LinkedIn
If you are interested in learning more about the work I do with lawyers, click here and send me a note, I would love to hear from you.
Enjoy the Show?