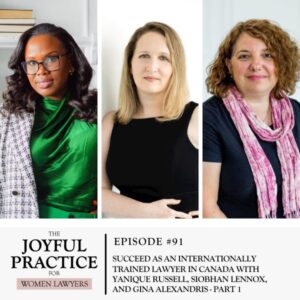 This week, you're hearing part one of a two-part interview on a topic that will be an infinitely valuable resource for many of you. If you're a lawyer trained outside of Canada and want to learn what the process is like to practice in Canada but don't know where to start, you're in the right place. 
There are so many internationally trained lawyers who are navigating the system, but when there's no singular process that works for everyone, carving out your own path becomes extremely challenging. The good news is I have a panel of three amazing guests who each has a unique perspective on the topic of internationally trained lawyers in Canada, and I'm quizzing them on it all today. 
Listen in as Yanique Russell, Siobhan Lennox, and Gina Alexandris share their expertise in this area, and offer guidance around some of the most common challenges internationally trained lawyers face and how to set yourself up with a network of support. 
I have created a group coaching program dedicated to supporting women lawyers, just like you, in your practice and your personal life. I'm going to help you create an even greater impact in your own life, and the lives of those around you. For more information, send me an email!
What You'll Learn from this Episode:
Who falls into the category of an internationally trained lawyer.

 

Why Yanique, Siobhan, and Gina are passionate about working with internationally trained lawyers.

 

What drew Yanique and Siobhan to Canada.

 

Siobhan's tips for setting yourself up with a network of support.

 

Some of the key challenges internationally trained lawyers face in qualifying for and working in Canada.

 

Yanique, Siobhan, and Gina's tips for supporting yourself emotionally, physically, and financially.
Listen to the Full Episode:
Featured on the Show:
Enjoy the Show?