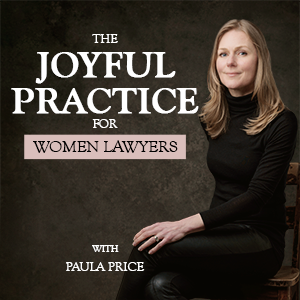 This podcast was created to empower women lawyers just like you to create a life and practice you love.  As an advocate, you spend your days in service to others, fighting their battles and putting their needs first. But at the end of the day, you can be left feeling tired, overwhelmed, and like you're missing out on something more.
While you've mastered the skills of forecasting risks, solving problems and working hard, those skills may not be helping you create the life and practice you want: one that brings you more joy. This podcast is your time away from the daily hustle to focus on taking care of you: seeing where you're stuck, figuring out what you truly want and learning skills that will help you define and create success on your own terms. 
Tune in every week and join Paula Price, litigator turned certified executive coach, as she shares practical tools you can use to define and create success on your own terms. If you're over the overwhelm, done with putting out fires and ready to stop letting perfectionism hold you back from going after what you really want, this podcast is for you. 
Listen to the first episodes:
Ep #1: How to Turn Around a Bad Day – For my first episode, I share 5 things I recommend that you do when you're having a bad day and 3 things that you absolutely should not do. I'm sharing my personal experiences of doing this work and some tools to help you transition your way out of a bad day and bring things back under control.
Ep #2: 8 Time Management Tips For Lawyers – Join me on this episode as I share how to design a time management practice that better aligns with you and your goals, your strengths, and what is going to work in your practice. If you are facing time management challenges, you are definitely not alone.
Ep #3: How To Find The Joy In Your Work –

In this episode,

I'm

showing you how to stop looking outside of yourself for approval and sharing a different approach to looking at things to help you experience more joy in the moment.
Here's what you should do right now to sign up for your weekly dose of The Joyful Practice for Women Lawyers podcast: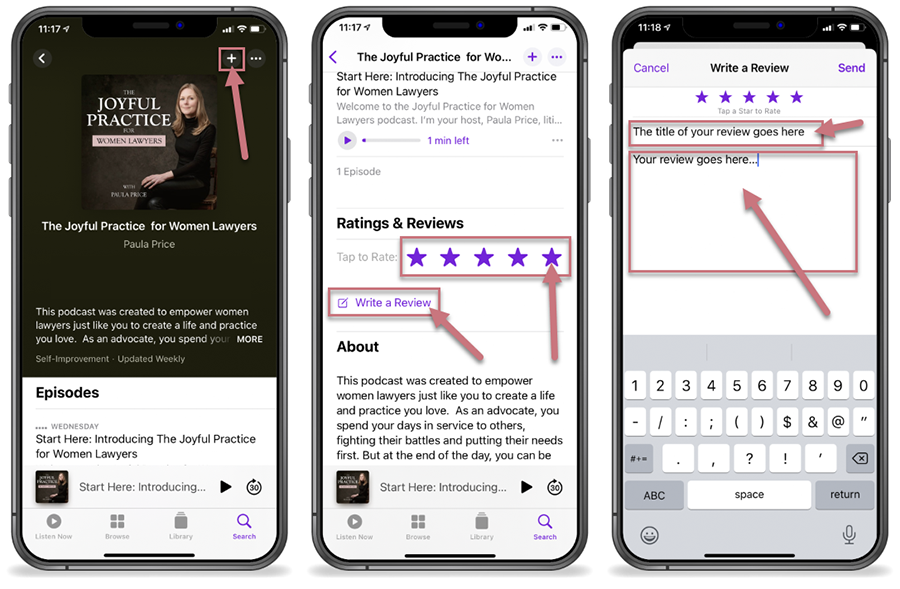 1. Follow/Subscribe in Apple Podcasts
To follow or subscribe in Apple Podcasts, visit The Joyful Practice for Women Lawyers podcast page and click on the "Listen on Apple Podcasts" button. (Note: If you're on a PC or Android, you can download the iTunes app and leave a review there!)
This will launch Apple Podcasts and bring up the podcast.
Click on the + (plus sign) to "Follow" or "Subscribe" and you're all set!
You can also listen to the podcast via Spotify, Stitcher Radio, or wherever you get your podcasts.
2. Rate and Review the Podcast
Once you've listened to an episode or two, tap the stars and click on the "Write a Review" link on The Joyful Practice for Women Lawyers podcast page in Apple Podcasts to leave a review.