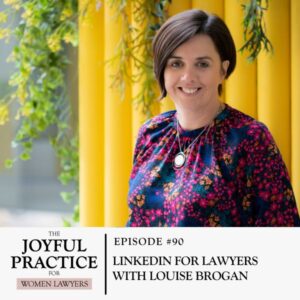 How are you currently engaging with social media? With a plethora of different platforms available to us, you're likely splitting your time across them all. LinkedIn is probably one of those you regularly check, but it's also very likely that you aren't leveraging it for your business as much as you could. 
Louise Brogan is a LinkedIn Marketing Specialist for professional services companies who has over a decade of experience helping small businesses thrive on LinkedIn, and she's also an international speaker, writer, and host of the podcast LinkedIn with Louise. She found that her time on LinkedIn resulted in not only closer connections but also more money far more quickly than other channels, and she's here to offer her expertise.
Join us this week to discover the true power LinkedIn has as a gateway to meeting professionals around the world, and how you can leverage it to increase your visibility and create a genuine network of people you want to connect with. Louise is offering reasons for being on LinkedIn you might not have considered before, and easy ways to create value and fun on this platform.
I have created a group coaching program dedicated to supporting women lawyers, just like you, in your practice and your personal life. I'm going to help you create an even greater impact in your own life, and the lives of those around you. For more information, send me an email!
What You'll Learn from this Episode:
How LinkedIn became the focal point of Louise's work.

 

The power of niching down your business.

 

What drew Louise to work more closely with lawyers and law firms in her practice.

 

How Louise and her clients use LinkedIn in new and creative ways.

 

An easy way to be noticed by your existing and potential clients.

 

Louise's tips on how to approach LinkedIn to connect and build relationships.

 

The difference between connecting and following.

 

How to use Creator Mode on LinkedIn.

 
Listen to the Full Episode:
Featured on the Show:
Enjoy the Show?