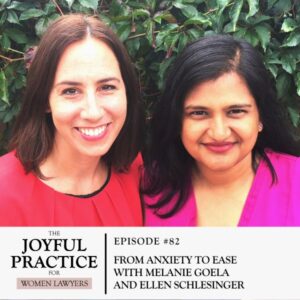 The law profession can often feel like a pressure cooker. There are systemic pressures and very high standards that exist, which make anxiety, burnout, and stress a common experience among lawyers. And without the right tools or support, carrying that weight of responsibility is extremely challenging. 
This week, I'm speaking to two very special guests, Melanie Goela and Ellen Schlesinger. Melanie and Ellen are lawyers turned counsellors and founders of From Anxiety to Ease, an organization dedicated to supporting and promoting the mental health and wellbeing of lawyers. The biggest issue lawyers present them with is anxiety, and they're here to show you why anxiety is a normal human experience, and how it's never too early to seek help.
Join us on this episode as I quiz Melanie and Ellen on their transition from law to therapy, and how their practice helps their clients find freedom from anxiety. They're sharing practical strategies for navigating anxiety in a new way, and how their containers of support can help you create relief, cultivate self-trust, and expand beyond survival. 
I'm hosting a free webinar on Wednesday, December 21st 2022 at noon Pacific Time. It's called 6 Steps to Sustainable Success in 2023, where we will be talking about what it takes for you to achieve your goals sustainably. If you're interested, click here to register!
I have created a group coaching program dedicated to supporting women lawyers, just like you, in your practice and your personal life. We open on January 1st 2023, and I'm going to help you create an even greater impact in your own life, and the lives of those around you. Click here to learn more and to claim your spot!
What You'll Learn from this Episode:
Melanie and Ellen's experience of transitioning from law to therapy.
Why Melanie and Ellen made the decision to transition to counselling.

 

How they came together to create From Anxiety to Ease, and what their practice encompasses.
The benefits of individual counselling and group counselling.
How the pandemic changed the nature of their work and the issues their clients were bringing to them.

 

Why lawyers lose self-trust, and how to rebuild it.

 

The common causes of anxiety in lawyers.
Actionable strategies you can apply when you feel anxious.

 
Listen to the Full Episode:
Featured on the Show:
Want to get in touch with me? You can do so by clicking here or reaching out to me on LinkedIn
If you are interested in learning more about the work I do with lawyers, click here and send me a note, I would love to hear from you.
Sign up for Melanie and Ellen's free mini-course for lawyers on getting relief from anxiety here!
Enjoy the Show?