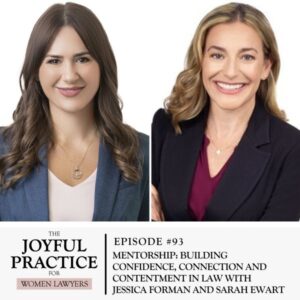 Have you had a bad experience with mentorship? Do you find it intimidating to put yourself out there and approach people with a mentoring request? The truth is even if you've had a not-so-great experience with mentorship, it doesn't have to stay that way, and it's also a step that can accelerate your career trajectory.
This week, I've got two very special guests on the show. Jessica Forman and Sarah Ewart are both employment lawyers and workplace investigators who work at Forte Workplace Law, and they're here to talk to us about mentorship. Jessica happens to be Sarah's mentor, so you'll be hearing the ins and outs of mentorship, both from the perspective of a mentor and mentee.
Join us on the podcast to discover how to maximize your mentoring relationship, whether you're a mentor or a mentee. Jessica and Sarah are sharing why both junior and senior lawyers should be engaged in mentorship, what they both found valuable out of their experience, and their tips for anyone looking to build a mentoring relationship.
I have created a group coaching program dedicated to supporting women lawyers, just like you, in your practice and your personal life. I'm going to help you create an even greater impact in your own life, and the lives of those around you. For more information, send me an email!
What You'll Learn from this Episode:
What inspired Jessica to reach out and suggest a podcast episode on mentorship.

 

The role mentorship has played and continues to play in Sarah's career.

 

Jessica's tips for building a mentoring relationship.
The different types of mentors a lawyer might have during the course of their career.

 

Some of the challenges a mentor could help you overcome.

 

How a mentee can maximize their mentoring relationship, and vice versa.

 

Why senior lawyers might seek out opportunities to mentor junior lawyers.

 

The unexpected gifts Jessica and Sarah have experienced from their mentoring relationship.
Listen to the Full Episode:
Featured on the Show:
Enjoy the Show?