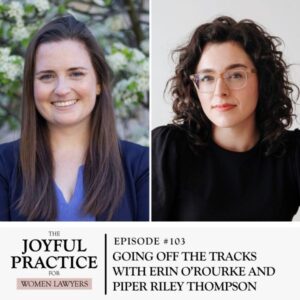 If you listen to this podcast, you're probably very curious about and interested in hearing from lawyers who take a different approach to practicing law. If going off the tracks is something you're wondering how to do for yourself, you're in luck because this week, I'm speaking to Erin O'Rourke and Piper Riley Thompson: two lawyers who are experts in this realm.
Erin is a solo practitioner who started her own firm in the midst of the pandemic, and Piper recently retired her license to practice law and is currently working as a senior career advisor at the University of Calgary Faculty of Law. They are also the hosts of the award-winning podcast Off the Tracks. From going in-house, niching down, and transitioning to diversity and wellness, they cover it all on their show, and they're here to share their expertise with us.
Join us on this episode as Erin and Piper offer their top tips and advice for anyone who is wondering what it means to go off the tracks and what might be required of you if you feel called to stray from traditional styles of practice. 
I have created a group coaching program dedicated to supporting women lawyers, just like you, in your practice and your personal life. I'm going to help you create an even greater impact in your own life, and the lives of those around you. For more information, send me an email!
What You'll Learn from this Episode:
How Erin and Piper have gone off the tracks in their own unique ways.
What Erin and Piper have learned about going off the tracks.
Erin's advice for anyone thinking of going solo.
How Piper knew it was time to retire her license.
Erin and Piper's insights on creating community and professional support as a sole practitioner.
Their advice for anyone with an entrepreneurial appetite.
What to keep in mind as you begin approaching your practice in the way you feel called.
Listen to the Full Episode:
Featured on the Show:
Enjoy the Show?