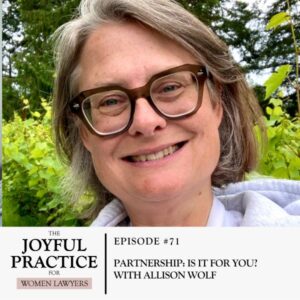 Partnership, at its core, is about power within an organization. Being a partner has strong historical and cultural implications. It becomes an identity for people, and connotes status and a place in your firm's hierarchy. However, while it can offer many opportunities, you're not alone if you're moved by different motivations than checking this box in your career path. 
To dive into this topic, I'm sitting down with Allison Wolf. Allison has been a lawyer coach for the past 18 years, and she works exclusively with lawyers at all stages of practice. She's a leader in our industry, and she's here to offer her insights on pursuing the partnership track or doing something different, whether it's forging into a new practice area or embracing bigger roles. 
Listen in this week to discover how to navigate the decision of pursuing partnership. Allison is graciously offering a much-needed heads up on all the things you might not consider as you think about the path to partnership, the questions you should ask yourself in the decision-making process, and why she invites you to not discount it because of what the role of partner used to mean. 
If you enjoyed today's show and don't want to miss an episode, be sure to subscribe and follow the show. And if you haven't already, please leave a rating and review! Your feedback will help me create a podcast that's tailored to your needs and goes straight to the heart of what matters to you. Click here to learn how to subscribe, rate, and review.
What You'll Learn from this Episode:
Allison's thoughts on the stage at which lawyers should start thinking about partnership.

 

The questions you might consider if you're thinking about applying for partnership.

 

Some of the reasons you might want to apply for partnership.

 

The historical and cultural implications of being on the partnership track.
Allison's insights on why partnership might not be appealing to younger associates.

 

Why we can't judge what partnership means by what it's looked like in the past.
How being on the partner track offers you the potential and opportunity to transform your law firm.
The most common drawbacks of partnership.

 

How to identify if the partnership track is the right fit for you.

 
Listen to the Full Episode:
Featured on the Show:
Want to get in touch with me? You can do so by clicking here or reaching out to me on LinkedIn
If you are interested in learning more about the work I do with lawyers, click here and send me a note, I would love to hear from you.
Enjoy the Show?