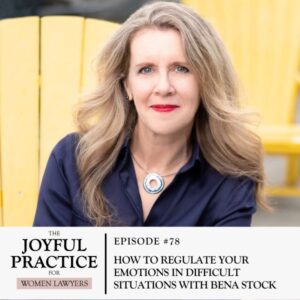 This week, I'm interviewing a special guest: lawyer turned counsellor Bena Stock. She's here to talk to us about emotional regulation, and provide practical tips and strategies that you can start using right now when you find yourself facing difficult emotions, whether that's at work, at home, or anywhere else.
As a former lawyer, Bena knows how overwhelming it can feel to juggle law and life, and she believes firmly in putting yourself first. Bena was one of the first people I reached out to when initially deciding on my own career as a lawyer, so I know personally how amazing she is, and I know all of you listening will benefit from hearing her and how she frames emotional regulation.
Tune in this week to discover how to effectively self-regulate when difficult emotions come up. Bena is sharing the main challenges she experienced as a lawyer, the issues she helps her lawyer clients deal with, and why intentional emotional regulation is the key to dealing with the stressful situations that come up every day in a legal practice.
I have created a membership program dedicated to supporting women lawyers, just like you, in your practice and your personal life. We open on January 1st 2023, and I'm going to help you create an even greater impact in your own life, and the lives of those around you, so stay tuned for more details and click here to get on the waitlist!
What You'll Learn from this Episode:
Bena's journey from lawyer to counsellor.
Why Bena provides counselling primarily to lawyers and what this counselling looks like.
The emotional toll that Bena sees lawyers' work and environments taking on their emotional health.
Bena's advice for any lawyers currently considering their future in the law.
The importance of being intentional about balancing your work-life integration.
What emotional regulation is and why it matters for lawyers.
Bena's practical tips and strategies for regulating your emotions during challenging circumstances.
Listen to the Full Episode:
Featured on the Show:
Want to get in touch with me? You can do so by clicking here or reaching out to me on LinkedIn
If you are interested in learning more about the work I do with lawyers, click here and send me a note, I would love to hear from you.
Enjoy the Show?