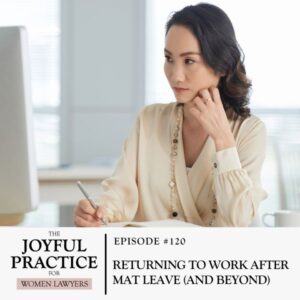 Even though it's been a decade since I personally transitioned from being a new mom to returning to work, I remember it clear as day. It feels like just yesterday that my year-long maternity leave ended, and I took my son to a childcare provider for the first time; it definitely threw a spanner in the works.
Whether you're a brand-new parent or have been at this for a while but continue to struggle, you're by no means alone. The choices, challenges, and sacrifices you'll have to make in your personal and professional life don't go away as the years go on. While this sounds like bad news, the truth is that navigating parenting and your work is an ongoing balancing act, and I'm excited to share my top tips and ideas this week.
Tune in today to hear five suggestions for navigating the early years of returning to work after mat leave and beyond. I'm sharing the common challenges that come with this transition, the important variables to consider as they relate to your unique experience, and my favorite ideas for orchestrating your time in a way that works for you.
I have created a group coaching program dedicated to supporting women lawyers, just like you, in your practice and your personal life. I'm going to help you create an even greater impact in your own life, and the lives of those around you. For more information, click here!
What You'll Learn from this Episode:
The common challenges of transitioning from being a new mom to going back to work.
My top 5 tips for returning to work after mat leave and beyond.
The variables to consider about your personal philosophy on work and parenting.
What self-care really entails.
Why giving yourself permission to make difficult decisions is essential.
The skills you'll need to find the support you need.
Listen to the Full Episode:
Featured on the Show:
Want to get in touch with me? You can do so by clicking here or reaching out to me on LinkedIn
If you are interested in learning more about the work I do with lawyers, click here and send me a note, I would love to hear from you.
Enjoy the Show?