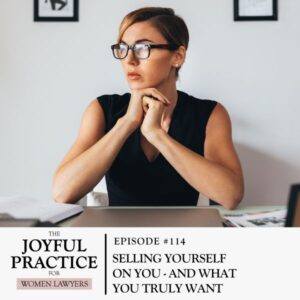 Have you ever found yourself in a place where you've worked extremely hard to get where you thought you wanted to be, only to feel like you've somehow ended up on the wrong path?
Maybe you know your position is a coveted one, and other people would line up to be presented with that opportunity, but you can't help but question it. Perhaps you try to imagine a happy future, and you just can't see it. Is something else calling to you, and yet, when you allow yourself to follow that thread, it seems reckless to throw away everything you've worked for up to this point?
The truth is, you have more agency than you're giving yourself credit for, and on this episode, I'm showing you how to tap into your internal GPS. Join me today to hear my four-step process for selling yourself on you, how to free yourself from rumination, and what to expect as you make the decision to go after what you truly desire.
I have created a group coaching program dedicated to supporting women lawyers, just like you, in your practice and your personal life. I'm going to help you create an even greater impact in your own life, and the lives of those around you. For more information, click here!
What You'll Learn from this Episode:
Why you may be feeling a sense of conflict about where you are right now.
The price you pay when you resist what you truly want.

 

My 4-step process for selling yourself on you.
What to expect if you make the choice to sell yourself on you.
How to listen to and take action on what you really desire.

 
Listen to the Full Episode:
Featured on the Show:
Want to get in touch with me? You can do so by clicking here or reaching out to me on LinkedIn
If you are interested in learning more about the work I do with lawyers, click here and send me a note, I would love to hear from you.
Enjoy the Show?