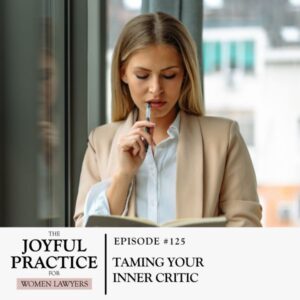 How often do you notice that voice in your head that tends to have an extremely negative narrative? Some people refer to it as negative self-talk, while others call it the inner critic. However you relate to this concept, chances are you've had at least a few interactions with yours.
If you identify that your inner critic is running the show and you haven't fully investigated it, examining it closely can seem scary and overwhelming. However, or whenever, your inner critic manifests for you, the underlying message it offers is often about how you don't deserve a break or how you'll never be enough no matter what you do. But the truth is your inner critic isn't bad, it's just trying to protect you.
Join me this week to learn five strategies for making peace with your inner critic. You'll hear how your inner critic may be slowing you down, some of the ineffective ways we try to fix it, the skills required to make peace with your inner critic, and my top tips for embarking on a journey of getting to know your inner critic.
I have created a group coaching program dedicated to supporting women lawyers, just like you, in your practice and your personal life. I'm going to help you create an even greater impact in your own life, and the lives of those around you. For more information, click here!
What You'll Learn from this Episode:
What negative self-talk can sound like in different situations.

 

How a loud inner critic slows you down.

 

The ineffective ways in which we try to solve our negative self-talk.
How your inner critic may be helping you.
What it means to do an inner critic case study.
Questions to ask yourself about your inner critic.
My top tips for getting to know your inner critic.

 
Listen to the Full Episode:
Featured on the Show:
Want to get in touch with me? You can do so by clicking here or reaching out to me on LinkedIn
If you are interested in learning more about the work I do with lawyers, click here and send me a note, I would love to hear from you.
Enjoy the Show?