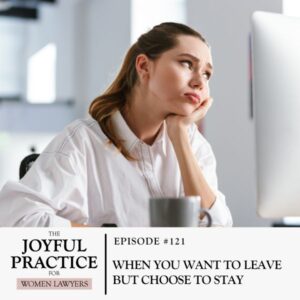 Do you feel like you're currently in a position that, deep down, you know isn't right for you? Maybe you know that there's no future for you in your current career trajectory, and yet, for some reason, you decide to stay. How can you make the best of this kind of situation? Is it possible to thrive, regardless of whether you stay or make a move?
This is an experience that resonates with a number of lawyers I speak with. They find themselves in jobs they're no longer passionate about but decide to stay, and it leaves them feeling stuck. There are a few reasons why a job you previously loved might no longer be a great fit, but my goal this week isn't to persuade you to make a move. Instead, I'm helping you own your decisions and manage this experience in a proactive way.
Listen in this week to discover 4 strategies you can apply right now if you know you're unhappy but fear the risk of taking the wrong next steps. You'll hear the traps of staying in a job you don't love without a deliberate plan, and my tips for building a practice that truly aligns with what you want. 
I have created a group coaching program dedicated to supporting women lawyers, just like you, in your practice and your personal life. I'm going to help you create an even greater impact in your own life, and the lives of those around you. For more information, click here!
What You'll Learn from this Episode:
Why you might find yourself stuck in a job you know you no longer want to be in.
3 common reasons you may choose to stay in a job you're not passionate about.
The consequences of staying in a position that isn't the best fit.
4 strategies that will help you make the best use of your time in your choices.
The importance of considering your practical reality and your perceived fantasies.
Why you have to figure out the challenges and opportunities you're facing right now.
What happens when you take 100% responsibility for your decisions.
How to be ready for any career transition or opportunity that presents itself.
Listen to the Full Episode:
Featured on the Show:
Want to get in touch with me? You can do so by clicking here or reaching out to me on LinkedIn
If you are interested in learning more about the work I do with lawyers, click here and send me a note, I would love to hear from you.
Enjoy the Show?