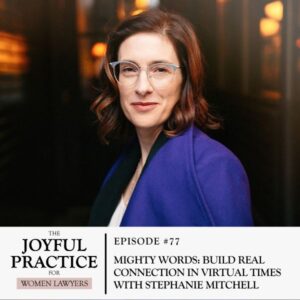 Choosing the right words, whether you're writing, speaking, or interviewing has the ability to paint a mental picture and bring the person you're with into another world. When you're trying to effectively and powerfully reach someone you're communicating with, the language you use matters, and my guest this week is an expert on all things words and communication. 
Stephanie Mitchell is a law school and journalism graduate who is now a writing coach, consultant, and professional keynote speaker. She specializes in words by helping people communicate clearly, persuasively, and passionately, and she's here to emphasize the importance of being mindful of the words we choose to express ourselves so we can better connect with those around us. 
Join us on this episode to discover why words are a key building block for human connection. Stephanie is here to inspire you in terms of how you can elegantly capture attention through your words, the power of intentionally choosing the language you use, and how to connect with the people you're writing, speaking, or presenting to. 
I have created a membership program dedicated to supporting women lawyers, just like you, in your practice and your personal life. We open on January 1st 2023, and I'm going to help you create an even greater impact in your own life, and the lives of those around you, so stay tuned for more details and click here to get on the waitlist!
What You'll Learn from this Episode:
What Stephanie's work of specializing in words looks like.

 

Stephanie's journey from finishing law school to becoming a writing coach and consultant.
What sparked Stephanie's love for words.

 

Why words are a key building block for human connection.
How to grab someone's attention with your words.
Where Stephanie sees people struggle most commonly when it comes to connecting through words.

 

How to choose words that will allow you to better connect and communicate.

 

The power of intentionally carving out silence.

 

How you can use words to bring a sense of humanity back to online meetings and communication platforms.
Listen to the Full Episode:
Featured on the Show:
Want to get in touch with me? You can do so by clicking here or reaching out to me on LinkedIn
If you are interested in learning more about the work I do with lawyers, click here and send me a note, I would love to hear from you.
Enjoy the Show?