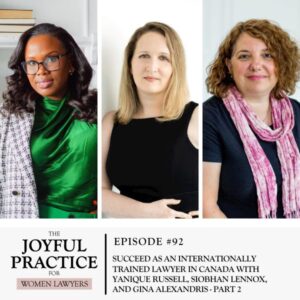 Last week, you heard part one of my conversation with Yanique Russell, Siobhan Lennox, and Gina Alexandris: three amazing guests who each has expert insights and unique perspectives to share on the topic of internationally trained lawyers in Canada. 
As we dive into part two of our interview today, we are getting into even more challenges internationally trained lawyers face while going through the process of qualifying and becoming licensed to practice in Canada. Yanique, Siobhan, and Gina are sharing their favorite strategies and resources to help you along. 
Tune in to hear Yanique, Siobhan, and Gina share their top tips and recommendations for carving out your own path as an internationally trained lawyer and creating deep and meaningful connections as you do so. They're talking strategies for qualifying and working in Canada, why it's critical for internationally trained lawyers to share their stories, and what will set you up for success. 
I have created a group coaching program dedicated to supporting women lawyers, just like you, in your practice and your personal life. I'm going to help you create an even greater impact in your own life, and the lives of those around you. For more information, send me an email!
What You'll Learn from this Episode:
One of the first hurdles internationally trained lawyers face.

 

The importance of telling your story.

 

Siobhan's top recommendations for networking opportunities.

 

The creative solutions Gina has seen internationally trained lawyers come up with to obtain their qualifications.

 

Strategies Yanique used to secure licensing.

 

Why it's critical for ITLs to actively form relationships.

 

What distinguishes an ITL who succeeds in the process versus an ITL who doesn't.

 

Gina's advice for anyone who is about to embark on the path of qualifying and working in Canada.

 
Listen to the Full Episode:
Featured on the Show:
Enjoy the Show?