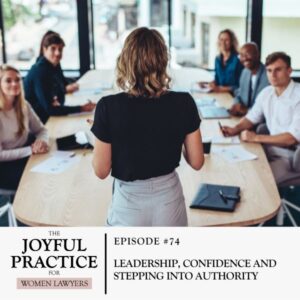 Whether you're a practicing lawyer, law adjacent, or a professional woman outside the field of law, we need more of you. We need more women leaders just like you represented within our organizations, but it's not always easy to step into leadership with a level of confidence and authority that feels great to us. 
Maybe you think being a leader means having to be bossy, domineering, or controlling. Maybe leadership has been modeled to you as accommodating your team and clients in a way that leaves you feeling depleted and exhausted. If you want to have more influence, but neither of these options sound ideal to you, and you don't know how to bridge that gap, you're in the right place.
Tune in this week to discover how to define and cultivate your own leadership style with confidence and authority. No matter where you are on your leadership journey, there are always more opportunities ahead for you to step into being a powerful leader, and my goal today is to equip you with practical strategies that will advance your own unique leadership style.
If you enjoyed today's show and don't want to miss an episode, be sure to subscribe and follow the show. And if you haven't already, please leave a rating and review! Your feedback will help me create a podcast that's tailored to your needs and goes straight to the heart of what matters to you. Click here to learn how to subscribe, rate, and review.
What You'll Learn from this Episode:
Why stepping into leadership is often so uncomfortable.
The reasons you might want to increase your leadership opportunities.
Why your transition into leadership starts the moment you begin practicing.

 

How to create alignment between your current self-concept and where you want to go.

 

What might be holding you back from stepping into and owning your leadership capabilities.
How to create a model of leadership that doesn't require changing who you are.
5 strategies to help you advance your leadership style with confidence and authority.

 
Listen to the Full Episode:
Featured on the Show:
Want to get in touch with me? You can do so by clicking here or reaching out to me on LinkedIn
If you are interested in learning more about the work I do with lawyers, click here and send me a note, I would love to hear from you.
Dare to Lead by Brené Brown
Radical Candor by Kim Scott
Enjoy the Show?