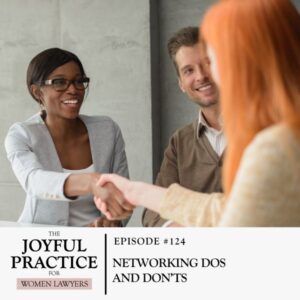 What comes to mind for you when you think about networking? 
I've come across a number of lawyers and law students who have very different views about what networking entails. For some, they're excited and can't wait for the opportunity to meet new people. For others, they associate it with business cards and awkward conversations. Wherever you land on the spectrum, the truth is networking is relevant at all stages of your legal career, and I'm showing you how to navigate your next event with greater confidence and ease.
Whether you're a student in the job-seeking process looking for tips as you prep for interviews and career fairs, or you're further on in your career and want to expand your network, attract new clients, or raise your profile, you're in the right place. Listen in to hear my top seven best-practice dos and don'ts when it comes to networking.
I have created a group coaching program dedicated to supporting women lawyers, just like you, in your practice and your personal life. I'm going to help you create an even greater impact in your own life, and the lives of those around you. For more information, click here!
What You'll Learn from this Episode:
Why networking is a topic that's relevant to anyone at any stage of their legal career.
The importance of having a plan and setting goals in networking.
How to navigate finding common ground with the people you meet.
What it means to ask for consent when making introductions.
How to handle awkwardness in your networking conversations.
7 best-practice dos and don'ts when it comes to networking.
Listen to the Full Episode:
Featured on the Show:
Want to get in touch with me? You can do so by clicking here or reaching out to me on LinkedIn
If you are interested in learning more about the work I do with lawyers, click here and send me a note, I would love to hear from you.
Enjoy the Show?