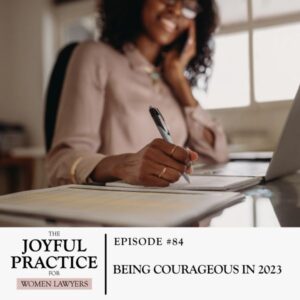 The New Year signifies a clean slate for us to create whatever we want. You have 365 days to decide what you would love to have in 2023, what would feel magical to you, and how you're going to embody the person you want to become. 
Whether your goals for 2023 are to become more productive, to branch into a new practice area, feel more in control of your time, set boundaries with confidence, or push your health up the priority list, all of it requires courage. And this week, I'm showing you the vital role courage plays in moving you forward, and how to embark on a journey of becoming courageous. 
Join me on the podcast to discover what courage means, and how to let courage inform the decisions you make and the opportunities you take advantage of in 2023. I'm sharing my personal reflections on 2022, an exercise in looking back on everything you've accomplished this year, and how to make 2023 a year of bold, courageous action. 
I have created a group coaching program dedicated to supporting women lawyers, just like you, in your practice and your personal life. We open on January 1st 2023, and I'm going to help you create an even greater impact in your own life, and the lives of those around you. Click here to learn more and to claim your spot!
What You'll Learn from this Episode:
My reflections on 2022.
Prompts to help you reflect on everything you've accomplished in 2022 and the goals you have for 2023.

 

How my clients approach goals, challenges, and opportunities in their practice.
Why courage does not mean an absence of fear.

 

How to let courage inform the decisions you make in 2023.

 

Why it's important for you to be able to act in courageous ways, even when it's hard.
The shadow side of courage.
Listen to the Full Episode:
Featured on the Show:
Want to get in touch with me? You can do so by clicking here or reaching out to me on LinkedIn
If you are interested in learning more about the work I do with lawyers, click here and send me a note, I would love to hear from you.
Enjoy the Show?