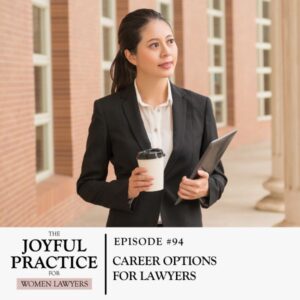 The question of alternative career options for lawyers comes up a lot in my work. What I often see are lawyers who are busy practicing in their day-to-day, trying to squeeze in their personal life, and aren't entirely satisfied with their careers but find a large part of their professional community doing the same.
Maybe you feel like there's a lack of information about what else is out there, or find it hard to access those resources. Maybe you start looking for alternatives and your initial discoveries aren't that fruitful.  Perhaps everything has been lockstep in your journey up to this point, and stepping off the beaten path feels completely foreign to you.
Whatever your unique situation may be, this week, I'm offering a resource to help you understand what else is out there if you know it's time for a change in your career. From private practice, in-house, government, law adjacent, to leaving law altogether, I'm sharing a detailed list of options you can think about that will hopefully help you make progress.
I have created a group coaching program dedicated to supporting women lawyers, just like you, in your practice and your personal life. I'm going to help you create an even greater impact in your own life, and the lives of those around you. For more information, send me an email!
What You'll Learn from this Episode:
Why the question of career options for lawyers comes up so often in my work.
What to do if you find yourself looking for career options in law.
The considerations to keep in mind about making a transition.
A list of alternative career options for lawyers.
What you can expect from smaller private practices, boutique firms, and full-service firms.
Areas covered within the not-for-profit realm.
What law-adjacent positions are, and what those options can entail.
Listen to the Full Episode:
Featured on the Show:
Enjoy the Show?