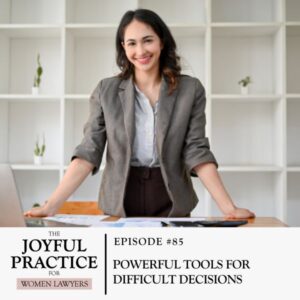 To celebrate the start of 2023, we've been having a bit of a New Year theme happening here on the podcast. We've discussed creating sustainable success with your resolutions and being courageous moving forward, so if you're looking ahead at the goals you want to achieve, changes you want to make in your practice, or transformations in your personal life, I've got you.
Whatever you choose to set your heart on this year, the reality is that you are going to need to make some difficult decisions. Whether it's a decision you have to make in your practice, a new direction you want to go in for your career, or a decision you're making about a personal relationship, the purpose of today's episode is to provide some strategies to help you along.
Tune in this week to discover how to become a powerful decision-maker. I'm sharing the types of difficult decisions lawyers reach out to me about, what might be contributing to a decision feeling difficult for you, and three powerful tools to help you make difficult decisions with a little more peace, ease, and confidence.
I have created a group coaching program dedicated to supporting women lawyers, just like you, in your practice and your personal life. I'm going to help you create an even greater impact in your own life, and the lives of those around you. Click here to learn more!
What You'll Learn from this Episode:
The 3 categories of difficult decisions most lawyers face.
Why it's more challenging to make difficult decisions the longer you put them off.

 

What might be making a decision difficult for you.
How to give yourself a framework for making a difficult decision.
3 strategies for making difficult decisions.

 

What happens when you practice using these strategies to make difficult decisions.
Listen to the Full Episode:
Featured on the Show:
Want to get in touch with me? You can do so by clicking here or reaching out to me on LinkedIn
If you are interested in learning more about the work I do with lawyers, click here and send me a note, I would love to hear from you.
Enjoy the Show?