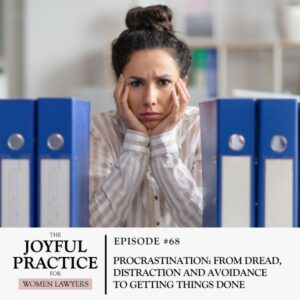 Do you have a tendency to fall victim to distractions in your everyday? How often do you tend to leave things late in the game, even when you know you've got tasks at hand that need seeing to? If the habit of procrastination seems to be your default mode and you can't figure out how to turn it around, you're in the right place. 
If your life looks anything like mine or my clients', your summer is wrapping up, you're getting back into the swing of a full practice, and work feels like a slump. Your daily workflow doesn't have the momentum it once did, you've got a laundry list of priorities to sort through, and everything just feels heavy and overwhelming. So today, I'm offering a little extra help navigating this transition back to work so you can go from dread, distraction, and avoidance, to getting things done.
Join me this week as I help you overcome the gap between procrastination to getting things done. You'll discover why we fall prey to procrastination, how it might be showing up for you in your practice, and my top strategies for overcoming procrastination. 
If you enjoyed today's show and don't want to miss an episode, be sure to subscribe and follow the show. And if you haven't already, please leave a rating and review! Your feedback will help me create a podcast that's tailored to your needs and goes straight to the heart of what matters to you. Click here to learn how to subscribe, rate, and review.
What You'll Learn from this Episode:
Why we procrastinate, and why it's often a problem.
How procrastination might be showing up in your practice.

 

Why it's easier to fall prey to procrastination when we're dreading a task at hand.

 

How, when we procrastinate, we do things we don't even particularly like.

 

5 strategies for overcoming procrastination.
The thoughts that may be contributing to your experience of procrastination.
How to leverage the emotion of a task you don't struggle with.
My best tips for setting yourself up for success with task initiation.
What to expect as you begin transforming your relationship with procrastination.
Listen to the Full Episode:
Featured on the Show:
Want to get in touch with me? You can do so by clicking here or reaching out to me on LinkedIn
If you are interested in learning more about the work I do with lawyers, click here and send me a note, I would love to hear from you.
Enjoy the Show?