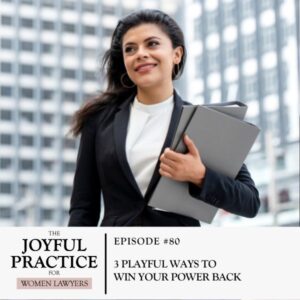 Many of us, especially as women, were never taught how to have power. We discount our power in small ways every day, and if you work in a primarily male organization or industry, you may not have people in positions of power who look or act like you to serve as a great model to emulate.
Power isn't something we talk about enough, and for most of us, we haven't consciously defined our relationship with it. Whether you describe your relationship with power as awkward or non-existent, or whether you have a healthy relationship with it, no matter where you fall on the spectrum, a little bit of discussion goes a long way.
Tune in this week as I invite you to examine your relationship with power. I'm showing you why we often hide from it, how you might currently be giving your power away, what to expect as you start assuming power, and three games you can try out to redefine your relationship with power and become confident exercising it. 
I have created a membership program dedicated to supporting women lawyers, just like you, in your practice and your personal life. We open on January 1st 2023, and I'm going to help you create an even greater impact in your own life, and the lives of those around you, so stay tuned for more details and click here to get on the waitlist!
What You'll Learn from this Episode:
Why many of us have negative associations of power.

 

3 ways to think about what power can mean for you.
How to define or refine your relationship with power.

 

The value of personifying power as you think about how you relate to it.
Why many women tend to shy away from being in positions of power.

 

How you might be placing power in the hands of other people, and the consequences of doing so.
3 games you can try out to begin establishing your relationship with power.
Listen to the Full Episode:
Featured on the Show:
Want to get in touch with me? You can do so by clicking here or reaching out to me on LinkedIn
If you are interested in learning more about the work I do with lawyers, click here and send me a note, I would love to hear from you.
Enjoy the Show?