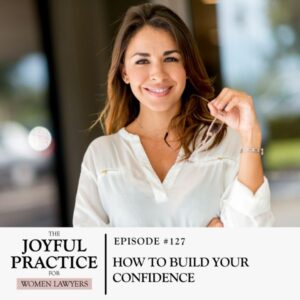 Where in your life and career do you struggle with your levels of confidence? A lack of confidence is a topic that comes up often in my work, and while it's not labeled as such in all situations, my clients find there are moments where they feel frozen with self-judgment or discomfort around certain decisions moving forward.
The truth is, even the most confident lawyers have rough days where they feel riddled with self-doubt. Confidence is a nebulous thing, and you might experience more or less of it in various environments, with different people, or in various work tasks. Feeling a 10 out of 10 in confidence is not the goal here. The key is in the process of defining, measuring, and increasing your confidence levels.
Join me this week to discover how to begin building your confidence levels right now. You'll hear some of the most common ways a lack of confidence shows up for lawyers, why self-confidence might feel like a moving target you can't reach, how to self-monitor your current level of confidence, and six strategic tools you can use to develop the muscle of confidence.
I have created a group coaching program dedicated to supporting women lawyers, just like you, in your practice and your personal life. I'm going to help you create an even greater impact in your own life, and the lives of those around you. For more information, click here!
What You'll Learn from this Episode:
Some of the most common ways a lack of confidence shows up among lawyers.
Why you might be struggling with your level of confidence.
How certainty isn't the secret to creating confidence.
The real objective of increasing your confidence and 3 ways to measure your current levels of confidence.
6 solutions for building confidence right now.
The opportunities available for you to reflect on and internalize success.
Listen to the Full Episode:
Featured on the Show:
Enjoy the Show?