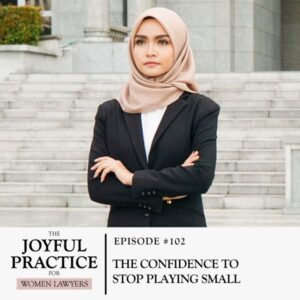 Sometimes, our confidence isn't quite where it needs to be for us to play bigger, go after the things that are important to us, and make the impact we want to have on the world. Whether you identify as someone who doesn't have a great deal of self-confidence, or find yourself playing smaller than you'd like, this episode is for you. 
This week, I'm inviting you to examine the areas of your life and practice where you're playing small when you would rather play bigger. Where are your confidence levels? Do you have the capacity to grow? And what could increased confidence translate into? These are some of the tough questions I'm offering you so you can find a way to create greater flow in your life and practice.
Join me on this episode as I give you four strategies for reexamining your relationship to confidence and building up your confidence levels. You'll hear the impact a lack of confidence can have on your experience, how to play bigger one step at a time, and how you can give yourself a future vision to live into.
I have created a group coaching program dedicated to supporting women lawyers, just like you, in your practice and your personal life. I'm going to help you create an even greater impact in your own life, and the lives of those around you. For more information, send me an email!
What You'll Learn from this Episode:
How a lack of confidence might be showing up in your life and practice.
Why waiting to feel confident until you've accomplished something isn't effective.

 

How you're playing smaller than you're capable of.

 

4 different strategies for building your confidence back up.

 

How to examine where you're playing small versus where you want to play bigger.
What to expect as you begin increasing your confidence levels.
Listen to the Full Episode:
Featured on the Show:
Want to get in touch with me? You can do so by clicking here or reaching out to me on LinkedIn
If you are interested in learning more about the work I do with lawyers, click here and send me a note, I would love to hear from you.
Starfish by Lisa Fipps
Enjoy the Show?