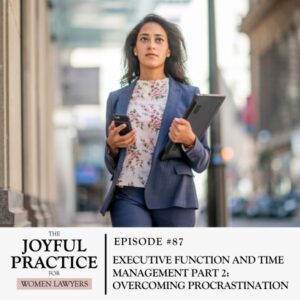 Last week, you heard part one of our series on executive function and time management as it relates to you and your legal practice. I introduced you to what executive functioning skills are, how to leverage yours, and what to do before you get started on a task to save time. And in part two this week, we're diving into the next phase: getting started.
Procrastination is heavily tied to your executive function skills, and all humans procrastinate when it comes to tasks we don't want to do. If you find yourself putting things off, doing tasks with your hair on fire, and generally experiencing a stressful work environment, you'll find this episode helpful because you'll learn how to identify the executive functioning skills at play, and how they might be showing up for you. 
Join me on the podcast to discover why you might be procrastinating in your practice, and two ways it's tied to your executive functioning skills. I'm sharing the tried-and-tested methods we've all used that aren't effective in managing procrastination, and three strategies to try instead to help you overcome procrastination with precision and grace for yourself. 
I have created a group coaching program dedicated to supporting women lawyers, just like you, in your practice and your personal life. I'm going to help you create an even greater impact in your own life, and the lives of those around you. For more information, send me an email!
What You'll Learn from this Episode:
How all humans have a tendency to procrastinate.
Why you might be procrastinating in your practice.

 

2 ways procrastination is tied to your executive functioning skills.

 

What happens when you're using fear and dread as motivators.
The strategies that aren't effective when it comes to managing procrastination.
3 strategies that will help you overcome procrastination.
The skills you'll need to exercise as you implement these strategies.
Listen to the Full Episode:
Featured on the Show:
Enjoy the Show?